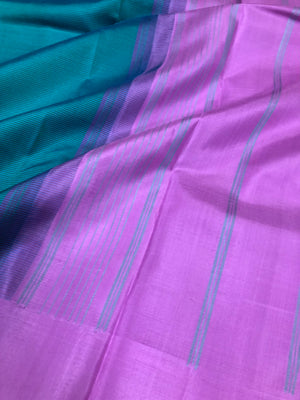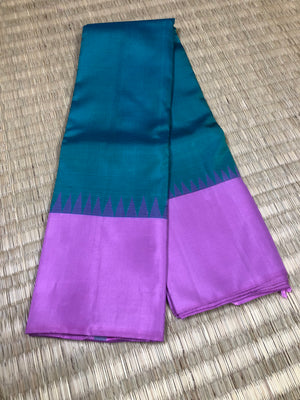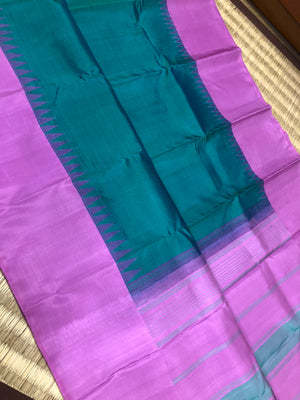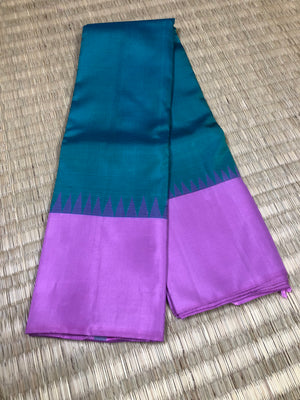 Diwaly Vibes on Korvai Kanchivaram - teal blue and bubble gum pink
 Legacy of Korvai Kanchivaram 
  Explore our finest quality of 4 ply - 3 Shuttle korvai Kanchivaram with all Kanchivaram elements of good silk density and stunning quality. 
Material         :      Pure Silk Korvai  Kanchivaram 
Weight          :       0.60 Kg - 0.70Kg
Length          :       5.5 m saree + 0.7 m blouse 

Width            :       48 Inches

Wash Care   :      Dry wash 

All Sarees are ready Stock and will be dispatched within 2 business days.

The Sari comes with contrast blouse. Shown in last pic of this post.

We Ship Worldwide.

We take at most care to bring the perfect colour of the sari. The colour may slightly varies due to Variation in Color Reproduction in cameras and screen, due to device temperature.
Story of Korvai Kanchivaram 
Korvai is a unique and ancient weaving technique where the borders and body are woven separately with separate shuttles simultaneously with two weavers. The korvai weave is in verge of extinction because of the labor and the time taken to complete one saree. Yess !!! when compared to a normal Kanchivaram saree the korvai Kanchivaram take lot of time to complete one saree. And only skilled labor with a good experience in this field only can weave this korvai sarees. These korvai on our authentic Kanchivaram with our traditional gaatharama ( with good weight silk construction ) like our grandmothers Kanchivaram is rare to find nowadays. After 10-20 years even if we pay 50,000 rupees also we cannot able to make these type of authentic korvai Kanchivaram. As because only 60 - 70 + years old people are doing  this wonderful. After them no one are ( young generation ) ready to do this job as all went to the IT sectors or moved to other fancy jobs. This is the reality of this Korvai Story.